Annual Conference
MACVPR Annual Conference
Registration will be available late summer 2018.
MACVPR organizes an annual meeting to inform attendees of vital information in the cardiac and pulmonary rehabilitation field. Speakers are selected to cover emerging topics and share their knowledge in their cardiovascular and pulmonary specialties. Past speakers have included but are not limited to, Pulmonologists, Cardiovascular and Thoracic Surgeons, Respiratory Therapists, leaders in the national organization, MAC and Noridian Liaisons and past AACVPR Presidents. In addition to the vast knowledge that is shared, the conference is also a great way to network with professionals from other programs around Montana and Wyoming.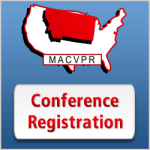 This year's conference will be held on Thursday, September 27th in Billings. We look forward to seeing you at the conference!
2018 Annual Conference Brochure
Meeting Vendors
A sincere thank you to all of our vendors. Without you, we would not be able to hold our annual conference. Thank you for your generous contributions!
Gold: Cardiovascular Health Program

Silver: ScottCare, LSI, Better Body Fitness, Zoll

If you would like to become a vendor for next year's MACVPR Annual Conference, please download the vendor form, or contact:
Jackson Storm
406-455-2180
JacksonStorm@benefis.org
2018 Conference Registration
Online Registration
We are now happy to offer online registration. Click Here to Register Online.
Mail-in Registration
If you would like to download the form to register by standard mail, please Download the Form Here.
Free Registration
One person from each program involved in the Montana Outcomes Project will receive free admission to the conference on a scholarship provided by the Montana Cardiovascular Health Program at MDHHS. For free registration, you will need to submit your application via mail or email to MACVPR treasurer Jackson Storm (address below). If this is not done by October 1st, you will be required to pay a late fee.
Mail In:
Jackson Storm
2908 3rd Ave S
Great Falls, MT 59405